Horses and camels require a very specific combination of nutrients to remain healthy and active. Royal Horse's line of super premium horse feed in Dubai has been developed to provide just that! Their exclusive product range, designed by expert nutritionists and veterinarians, will help to enhance the performance of horses across all disciplines. In addition to the horse feed, the brand also offers a specially formulated Royal Camel mix to help keep the animal in prime condition. Each Royal Horse product is manufactured in production plants that meet the highest global accreditations and follow the best manufacturing practices.

At Eurovets Veterinary Suppliers, we are privileged to be recognized as the premier Royal Horse supplier in Dubai and across the GCC. We stock all of the brand's most popular equine feeds including H-350 and H-250, among others. When you purchase Royal Horse feed from us, you get a high-grade product from a known and trusted supplier. We complement the high quality of our products with excellent value for money and timely delivery.
Popular Royal Horse Products
Why Choose Royal Horse Feed?
Below are just some of the reasons why Royal Horse is the most beloved horse feed brand in Dubai.
Royal Horse offers an extensive product line, so customers are sure to find a feed to meet the specific needs of their horse or camel.
All of the brands' products guarantees excellent value for money. By making your purchase through Eurovets Veterinary Suppliers, customers can get their Royal Horse Feed at the most affordable market prices.
Royal Horse has more than 50 years of experience producing innovative equine formulas. This experience has allowed the brand to create equestrian feeds of the highest quality.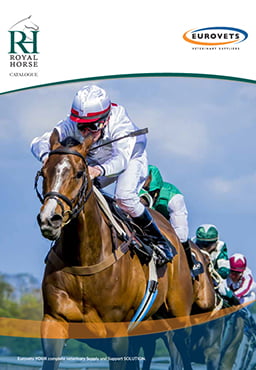 Download Royal Horse Product Catalogue