Aug 20, 2018, 12:22 AM
Well it sure is time to get of the couch! People everywhere are getting active every day for different reasons - whether it's the inspiration of a holiday around the corner or sport heroes at the Rugby 7's or for your own mental health, weight control, whatever the reason – Getting fit is moving you into a happier place, a stronger you.
It will also lead to muscle pain…Your legs burn, you wonder how you'll make it through the day - let alone get through the next workout.
Sounds familiar?
Well, unfortunately, there's no magic button you can push to magically erase all your aches and pains. But there isARNICA ICE®that will REDUCE and RELIEVE muscle pain.
What is ARNICA ICE®?
Kyron Arnica Ice Gel is a cooling gel as an aid in the relief of stiffness and soreness, painful muscles, tendons and joints. –
It has 4 main ingredients that work together to provide relief
1) Arnica Oil
anti-inflammatory properties
helps with bruising & soft tissue injury

2) Menthol
mild anaesthetic properties
stimulates sensory nerves, inducing a feeling of coolness

3) Camphor
mild anaesthetic properties
used for swelling, sprains & relieving arthritic pains

4) Witch Hazel
anti-inflammatory properties
helps promote the healing of bruises and swellings
This product is suitable for Horses and Humans. It is a known product being used by runners that participate in the world's largest and oldest ultra-marathon races, in fact it is being endorsed by the Comrades Marathon in South Africa.
Arnica Ice is available to purchase in 500g & 2.5kg tubs. You can apply the gel up to three or four times a day directly to your aching muscles, you can even put Arnica Ice on a light bruise -and the bruise will barely even show up, if it does at all.
Give it a try, you will become pretty obsessed with this product!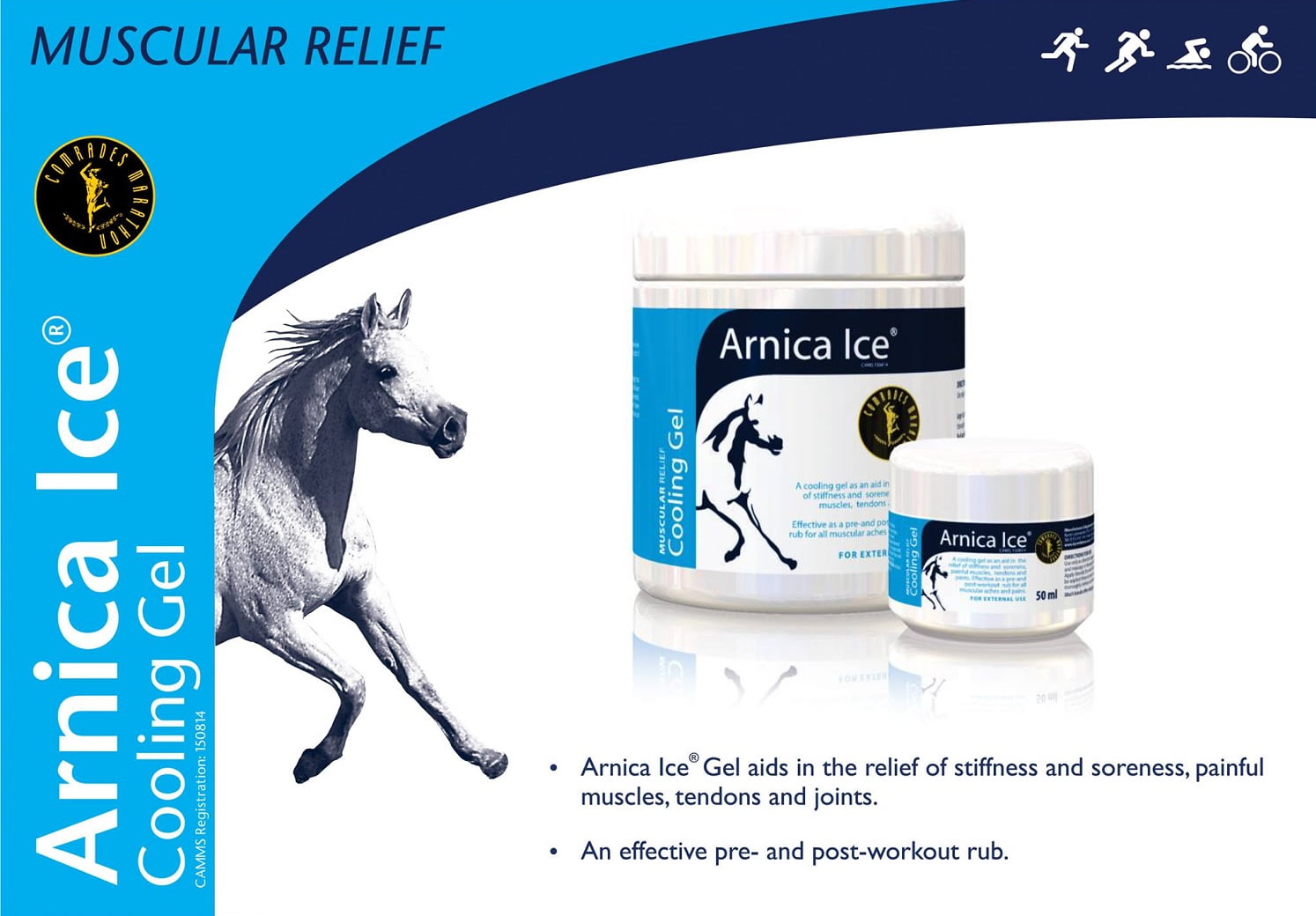 Eurovets a proud distributor of the Kyron brand in the UAE.