Dec 5, 2018, 1:06 PM
Obesity is a major health concern for today's pet cats and dogs, and successful weight management can save your furry friend's life.
However, the weight loss process can be extremely challenging, especially for the most obese animals (and their loving owners). Only with the right diet and appropriate exercise will you be able to quickly improve your pet's quality of life and give them a much better chance of living a longer and happier life.
According to the Association for Pet Obesity Prevention pets are increasingly being diagnosed with clinical obesity, which is far worse than being just a little bit overweight. A 2017 survey conducted by this organisation showed that 56% of dogs and 60% of cats were classified as obese or overweight by their veterinarians.
If your dog or cat is overweight, they can develop all kinds of health problems, such as painful arthritis, heart disease, breathing difficulty, diabetes and even certain types of cancer.
The biggest obstacle is that most pet owners find it difficult to identify when their pet is overweight, and don't notice the subtle changes as their pet moves from slightly overweight to dangerously obese. Most people aren't sure what their pet's ideal weight should be and also don't know how to spot the difference between healthy and obese.
The best advice is to always have your pet weighed when you visit your vet, but owners should also make a habit of regularly checking their pet's health through routine observations at home.
How to tell if your pet is overweight or obese
First, you should be able to easily feel – and count – your pet's ribs when you lightly run your fingers across the side. Ribs shouldn't be distinctly visible (that can be a sign of malnourishment), but you should easily be able to feel them when you stroke the animal's side.
Next, when you look down on your pet from above, you should see an hourglass figure or an indentation near the midsection. There should be a clear definition where the rib cage tapers toward the middle. If your pet looks like a blimp from above, it's packing on extra weight. All breeds have different shapes, and this can make it tricky, but there should still be a clear curve inward at the middle – if your pet's curves only expand outward, it's time for a weigh-in at the vet.
Finally, when you observe your pet from the side as it stands, you should see a slight tuck or upward slope of the tummy. If the abdomen hangs low and drags near the ground that indicates the most dangerous and biologically active form of fat - abdominal fat - is present. This can indicate a very serious stage of obesity.
In summary, the below points can all indicate that your pet is unhappily overweight and that it is time for an intervention:
Ribs can't easily be felt
No sign of an obvious waist
Difficulty in walking
Shortness of breath
Bad temper
Sleeping more than usual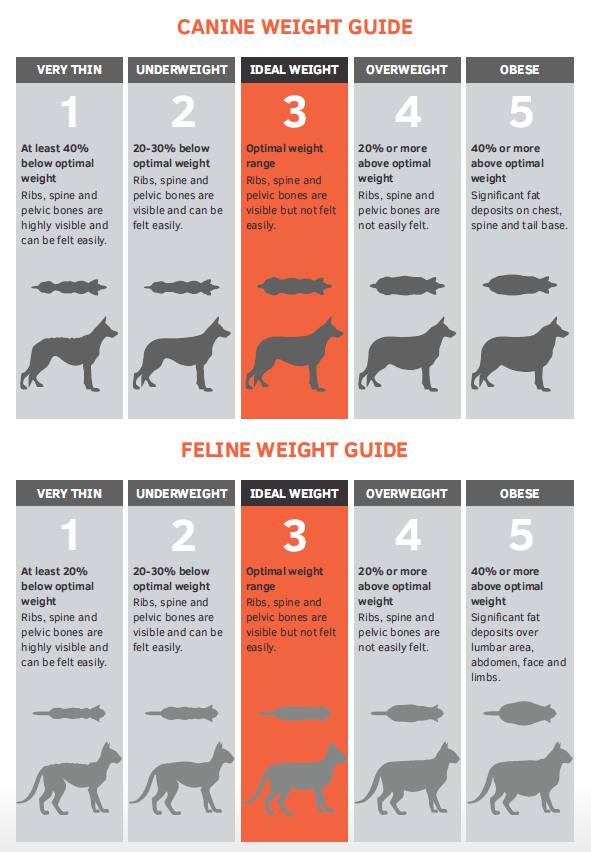 How can I help my pet lose weight?
Weight problems in pets are common today, and can be successfully managed through changes in food or a nutrition program. Combining a change in nutrition with increased exercise is the most effective way of achieving a healthy weight.
And as difficult as it is, remember that you're not helping your pet when you give them extra snacks or special treats from your own kitchen. It might feel like you're only giving them a little bit, but it all adds up. And at the end of the day you are harming your pet rather than spoiling them.
Get Active
Just like humans, pets need their exercise. The outdoor lifestyle is not easily come by in the heat of the UAE's scorching heat, so you need to be even more cautious in how your pet spends summer months indoors. Choosing the right pet food is critical, but ensuring they remain active plays a big role in keeping your animals healthy.
And it's not that difficult – in most cases pets don't require as much exercise as humans. By adding a little play time to their daily routine, you can easily ensure your pets stay mobile and burn off excess energy, instead of converting it into weight.
· Easy exercises for dogs
Basic obedience training – by practicing sitting, lying down, rolling over etc, you are getting your pet to move around.
Teaching your dog to swim – if you have access to a dog-friendly pool, this is a fun way to get your dog (and yourself) to burn off a few calories.
Play hide and seek – which will most likely consist of you and your dog running around the house dodging furniture. It's a great bonding experience, and will definitely get them moving and their tail wagging.
Running, walking, or biking with your dog – when outdoor temperatures allow, it's always a treat for your pets to get outside. But don't just let them wander around, make sure they get plenty of exercise.
Playing catch – simple game of catch with a ball or Frisbee is a fantastic way to get your dog to get in their 'quota of daily steps'. This can be done outdoors, or even indoors. You don't need a huge space – just enough to get your dog running back and forth enough.
· Easy exercises for cats
Invest in a cat tower. If your cat doesn't seem keen to climb, place small treats around the tower until he / she gets used to the idea and enjoys climbing regularly.
Keep cat toys on hand – make a habit of playing for a few minutes at random times during the day. This gets them up and moving, and might even lead to them getting more active on their own.
Use a laser pointer / flashlight / wand-style toy to get your cat running around and chasing their 'prey'.
Some cat toys allow you to hide treats inside – it takes a lot of play time and energy for them to eventually get to the treat, which means they're burning a lot of fat to get their reward.
The importance of nutrition
Your pet's nutrition plays an important role in their overall health and well-being. Balanced nutrition is an essential part of an active, healthy lifestyle. Eating too much pet food, snacks or human food will cause your pets to gain weight, and this increases the risk of conditions such as arthritis, diabetes, heart disease and breathing problems.
A low-fat and low-calorie food is essential in helping your pet lose weight and stay fit. Overweight pets tend to have less energy, which leads to more weight gain and it's up to owners to break this cycle. Fibre is also a key ingredient as it helps your pet eat less, but ensure they feel full for longer.
Once your pet has been overweight, they may be more prone to weight gain in the future and should have an ongoing weight-management plan based on good nutrition, exercise and regular check-ups / weigh-ins.
Calibra offers super premium Light pet food to maintain a healthy weight and also a veterinarian developed diet for pets with Obesity / Diabetes issues.
The calories cats and dogs need to consume daily to maintain their weight is far less people need. Healthy adult people generally should consume 2,000-2,500 calories per day. In comparison, according to the standard formula used to calculate the daily caloric needs of pets, an average 22.7kg (50lbs), adult neutered dog typically needs just under 1,000 calories daily. An average 4.5kg (10lbs), adult neutered cat needs around 220 calories each day.
In general terms, a dog can safely lose 1 to 3-percent of its body weight and cats 0.5 to 2-percent per month. Many dogs can lose 3 to 5-percent and most cats should aim for about a 220 grams (0.5lbs) per month.
The most important decision you make each day about your pet's health is what you choose to feed them. Choose wisely; your pet's life depends on it. The few minutes you spend on diet and weight could well be the difference between two additional years of high-quality life or a shortened, suffering final stage of life.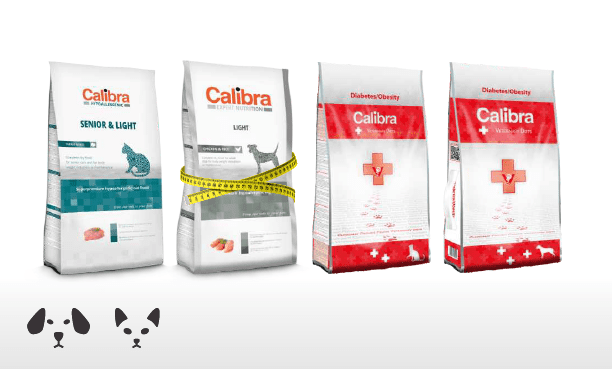 Overview
To recap, pet owners need to follow the below guidelines to help their pets stay healthy.
· Avoid feeding your pet table scraps
· Monitor the amount of food you give your pet
· Limit treats to 10% of their daily calories
· Engage in regular and adequate exercise.
And finally, remember that your vet should be your first stop for accurate diagnosis and treatment options.
Take me to Calibra stockists