Dec 20, 2022, 12:18 PM
Oral health for dogs is just as important as it is for people. Tooth cleaning is one of the most important procedures for general canine dental health. Serious ailments like renal, liver, and cardiac muscle damage can result from bad oral health. Thankfully, cleaning your dog's teeth is easy, and now that Eurovets offer Oxyfresh products, a well-known veterinary supplier in Dubai, caring for the dental health of your furry children is much less difficult. Oxyfresh is a famous international brand for its successful eco-friendly solutions and assortment of products. Your dog will enjoy a fuller, healthier, and prolonged life if you practice basic dental hygiene at home.
Here's a guide to dog dental care – everything you need to know about dog teeth cleaning
Foul Breath
You can tell how well your dog's teeth are doing by looking at them. The crux of the issue is that anything more than a little odor requires care. In actuality, gingivitis, the initial stage of canine gum disease, frequently manifests as poor dog breath. But don't worry; it can be reversed if you immediately begin your dog on a dental program.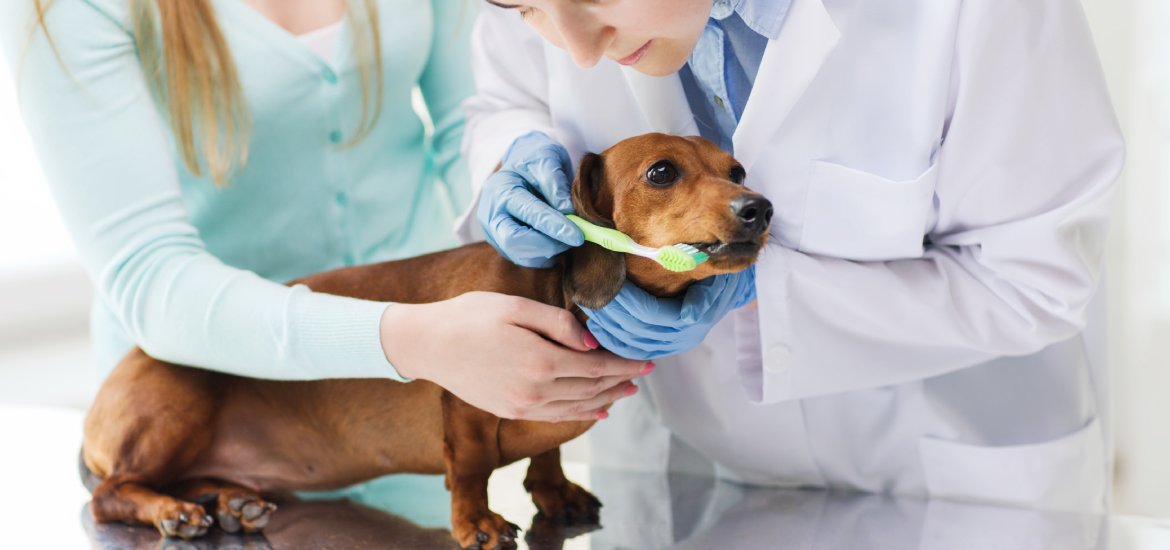 Plaque and Tartar
After meals, plaque, a transparent, gooey substance, naturally builds on dog teeth. It's the beginning of gum disease, but fortunately, removing it with a dog teeth cleaning routine is simple. If left untreated, however, it begins to harden as yellow-brown tartar. The bacteria-filled tartar on dogs' gums can irritate, resulting in infection, tooth loss, foul breath, and even a shorter life span. In contrast to plaque, tartar can only be removed by a specialist, so you must go to the nearest veterinarian.
Simple Steps to Brush Dog Teeth
Make sure your dog is quiet before the session and pick a quiet time.
Let the dog sniff the cleaning products and gear to get a feel for them.
Avoid forcing or pinning your dog. Kneel, sit in front of, or beside your dog.
While brushing your teeth softly, lift their lips with one hand.
Focus the tooth surfaces on the outside.
Throughout the procedure, don't continue to encourage by praising your dog.
Focus on brief sessions and then progressively increase your time.
After the session, always give a treat.
Brushing A Dog's Teeth: How Often
The ideal frequency for cleaning dog teeth is once per day. It needs to be done at least three times every week. It won't have much of an impact on their oral health otherwise.
Which Dog Teeth Cleaning Kit Is Ideal
All dogs treated with Oxyfresh canine dental care products have the loveliest, cleanest smiles. These products are outstanding since they don't include unfavorable flavors, odors, colors, alcohol, or harsh ingredients. The proprietary, non-toxic oxidizer Oxygene is only available from Oxyfresh, and it fights the bacteria that cause dog plaque and bad breath.
The Oxyfresh Mini Pet Dental Package is an all-inclusive canine dental care kit with scaled-down versions of some of their best-selling products, so you can try them out and see how easy regular canine teeth cleaning is.
Here's What's Inside:
Pet Dental Water Additive (3 Oz.)
To prevent plaque and boost your dog's breath, pour this no-brush solution into their water bowl daily. Even the pickiest canines won't be able to detect its presence because it has no flavor or odor.
Pet Dental Gel Toothpaste (1 Oz.)
This gel is adaptable and may be applied directly to your dog's gum line with a finger brush to strengthen, moisturize, and clean their gums while removing plaque.
3 Finger Brushes
These gentle, BPA-free, 100% silicone finger brushes can be used repeatedly and are suitable for the dishwasher. Pet owners will appreciate how simple they are, and pets will enjoy the soothing massage on their gums.