May 11, 2023, 11:19 AM
According to studies, more than 50% of felines have dental issues. In contrast to people, cats are less likely to show indications of dental disease, so it may go undiscovered until it has become serious. Therefore, experts and veterinarians frequently advise oral hygiene and good dental care to prevent cats from having any teeth or gum issues. Thanks to technological advancements, keeping up with oral hygiene and dental care for pets is no longer a challenge. In reality, Eurovets makes sure that veterinary medicines, equipment, and products from top brands are easily accessible to you through pet stores, veterinary offices, and a simple online ordering process in Dubai and around the UAE.
What Exactly Is Cat Dental Disease?
All cats, whether stray or house pets, develop dental disorders naturally. Although felines do not typically have cavities, they can readily get gingivitis and periodontitis. We can't ignore that they also get resorptive lesions, a condition where the tooth gradually falls off. This is a product of plaque, which, if not removed by regular brushing, further hardens to form tartar. Cats are less likely to acquire dental disorders or problems if oral hygiene is maintained and sufficient attention is paid to their dental needs.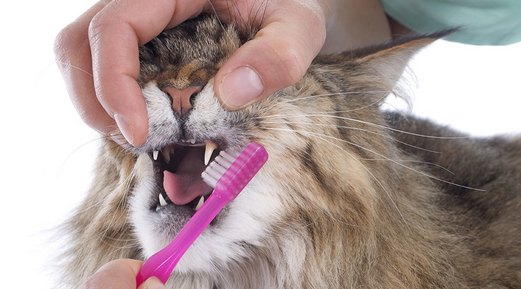 Dental Disease in Cats Causes and Symptoms
There is no disputing that poor tooth hygiene and dental care are the main causes of dental problems in cats. The easiest way to avoid dental problems in cats is to regularly brush their teeth with a toothbrush, finger brush, or toothpaste made especially for pets. Plaque on the teeth is removed in this way before it may turn into tartar.
Symptoms to look out for:
Poor breath.
Drooling.
Red and swollen gums.
Bleeding of gums.
Having trouble chewing.
Aversion to eating tough foods.
Pawing at one's stomach.
Teeth gnashing.
Stained teeth.
Why Use IM3 Equipment and Products for Pet Dental Care
Veterinarians who provide dental care for their patients need reliable and efficient equipment to perform their duties effectively. IM3 is a leading veterinary dental equipment and supplies manufacturer, offering high-quality products essential for effective dental care. IM3 dental equipment offers several benefits, making it a necessary investment for veterinary practices and easily available through Eurovets in Dubai and UAE.
Benefits Of Using IM3 Equipment
Designed For Small Animals
IM3 equipment is designed specifically for veterinary dental care, ensuring the tools are suitable for animal use. This ensures that the equipment is safe, efficient, and effective in addressing the dental health issues of animals.
Effective Care
IM3 equipment offers advanced technology, allowing for precise and accurate dental care. This is important because dental issues can be complex and require specialized treatment tools. IM3 equipment provides features such as high-speed drilling, ultrasonic scaling, and air-driven polishing, making it possible to manage dental issues effectively. Advanced technology also ensures that procedures are completed quickly, minimizing discomfort for the animal.
Durable
Dental care is an ongoing process that requires regular check-ups and procedures. IM3 equipment is built to last, reducing the long-term cost of maintaining dental equipment. IM3 equipment is durable and long lasting, making it a worthwhile investment for veterinary practices.
Training Equipment
IM3 offers comprehensive support and training for their equipment. This ensures that veterinarians can use the equipment to its full potential, providing the best possible care for their patients. IM3 includes training and support to ensure veterinarians understand how to use the equipment effectively and safely. They also offer maintenance and repair services to ensure the equipment remains in good condition.
Must Have IM3 Equipment for Dental Care
IM3 is a well-known and respected manufacturer of veterinary dental equipment and supplies. They offer various products, from basic hand instruments to advanced machines. Here are some of the best IM3 equipment for pet dental care that veterinarians can use:
IM3 Elite LED Dental Unit
This advanced dental unit offers ultrasonic scaling, high-speed drilling, and air-driven polishing. It also has a high-quality LED light and camera system that provides excellent visualization during procedures.
IM3 Ultrasonic Scaler
This high-quality ultrasonic scaler offers excellent power and precision. It is designed to remove plaque and tartar from pet teeth effectively, ensuring that pets have healthy and clean teeth.
IM3 Pro 2000 LED Cordless Dental Polisher
This cordless dental polisher is designed to polish pet teeth effectively. It is lightweight, easy to use, and features a high-quality LED light that provides excellent visibility during procedures.
IM3 Suction Unit
This high-quality suction unit is designed to remove debris and fluids from the oral cavity during dental procedures. It is essential to maintain a clean and dry working environment during operations.
IM3 equipment is an essential investment for veterinary practices that provide dental care for animals. The specialized design, advanced technology, durability, and comprehensive support make it ideal for veterinarians looking to provide high-quality dental care. These are just a few examples of the best IM3 equipment veterinarians can use for pet dental care.